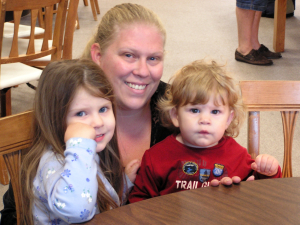 " ...Thank you for everything that you have done for my children and me. We've been through so much. It began with my health issues, and then my 16-year-marriage fell apart. When he left, he took everything we worked so hard for -- even our car.  My children and I had to start all over with only our clothes and a few personal items. CAPTAIN did so much for us; among other things, you made it possible for us to have dishes and a table so we can have our family time each evening.  CAPTAIN has given us the foundation we need to move on and to move up."
Our Family Assistance Program provides one-time, emergency financial assistance for individuals and families experiencing a hardship or crisis that could leave them without heat, shelter, or other essential needs.
            When you have nowhere else to turn, we can help or refer you to someone who can.

Emergency rental or utility assistance is available to those residents of Southern Saratoga County who have received a notice of eviction, are at imminent risk of losing their housing, are literally homeless, or are facing a utility shutoff. 

Our Solution to End Homelessness Program (STEHP) is a NYS-funded program to help individuals and families facing a housing crisis. The goal of the STEHP program is to keep people in our community stably housed. The funding provides financial assistance for those who are homeless or at-risk of homelessness in Saratoga County.

            To find out if you qualify for emergency assistance, you must apply with our Family Assistance Program. Because of the high demand for financial assistance, clients may only receive help once every 12 months. If you are in crisis and think CAPTAIN CHS may be able to help, call us at 518-371-1185 to speak with our Family Assistance Manager for information about programs.