What part have you played in
                    CAPTAIN's 40-year history?
                                     We'd love to know!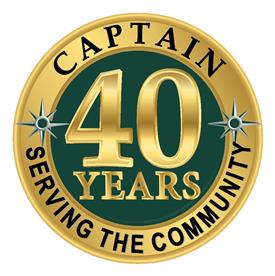 CAPTAIN'S 40TH REUNION CELEBRATION
In 1977, a group of concerned parents, teens Shenendehowa school counselors and administrators, and community members united to address the issues facing the youth and families of Clifton Park in terms of education, prevention, and intervention. Over the years, numerous programs and services have been added and restructured to allow for the changing needs and environment not just of Clifton Park, but of all of Saratoga County.
What CAPTAIN has accomplished in our first 40 years is astonishing. As we look towards the next 40, we would like to honor the past, and look towards the future in an effort to uphold and expand the legacy CAPTAIN has made and will continue to make in our community.
JOIN US for CAPTAIN'S 40TH REUNION CELEBRATION!

Thursday, October 12, 2017

Fairways of Halfmoon

6:00 - 9:00 pm
Heavy Hors D'Oeuvres.  Cash bar.
$40/person.  $25/CAPteen
Reminisce about the past 40 years and look towards our next 40!
CAPTAIN Friends and Participant Search

Whether you were a Board member, volunteered at CAPTAIN, were a CAPteen, worked for CAPTAIN, were one of the founders, have been a recipient of one of CAPTAIN's services, or have been touched by CAPTAIN in some way, WE'RE LOOKING FOR YOU!

Please email wendy@captaincares.org with your name and contact information, and let us know how CAPTAIN has been a part of your life. We encourage you to share this information with everyone.

Thank you! We are so excited to see you and hear from you!

Frequently Asked Questions
40th CELEBRATION COMMITTEE
Claire Brown

Karyl Camardo

Bill Casey

Ken Clements

Dale Gleason

Anne Long

Jim and Helen Pugliese

Robert Rybak

Gail Secunda