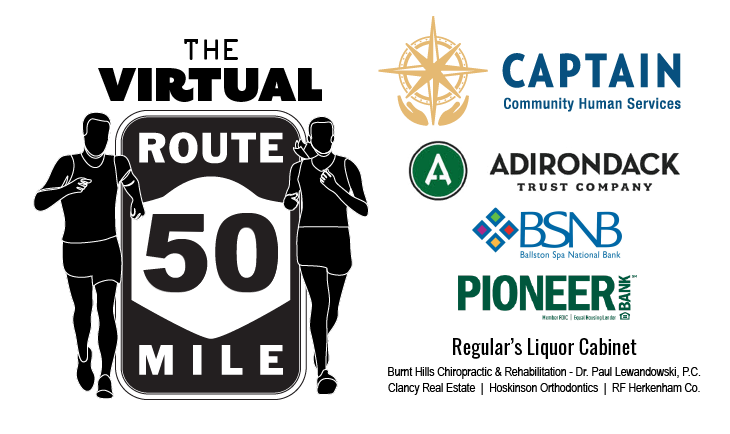 Thursday, June 11 to Sunday June 14, 2020
Free for all participants!
In partnership with our sponsors and Race Director Pete Sheridan, CAPTAIN CHS is proud to announce the Virtual Route 50 Mile!
Details:
All performances must be completed between Thursday, June 11th, and Sunday, June 14th.
You must register to participate. The event is free and includes a downloadable custom bib. Donations to support CAPTAIN CHS's emergency programs are encouraged.
GPS distances must be within 0.01 miles to be "legal" (i.e.; 0.98 is not okay but 0.99 is alright).
The mile run must be reasonably level ground. No downhill runs please!
Submissions require a screenshot, photo or other digital evidence of the route and run time, and must be submitted by Monday, June 15th at 12:00 noon.
Complete results will be posted on the CAPTAIN CHS website by Wednesday, June 17th.
Important Rules to Remember
All participants must avoid gathering in large groups and running at the same time.
No one should be running on the grounds of a high school track. This is not only against district policies but can result in discrepancies in the GPS watch measurement.
It's suggested to run along a safe route, such as a bike trail which might be the ideal "course."
Take social distancing seriously!
Share photos of your performances on Instagram by using the hashtag #SocialDistanceRuns #Route50Mile and tagging @CAPTAINCARES, or share to our Facebook page, or simple upload form.
For any questions, please contact us at psheridan3@nycap.rr.com or mbauer@captaincares.org.
---
Thank you to our Major Sponsors!
Thank you to our Partnering Sponsor!
Thank you to our Contributing Sponsors!