NEXT-TO-NEW SHOP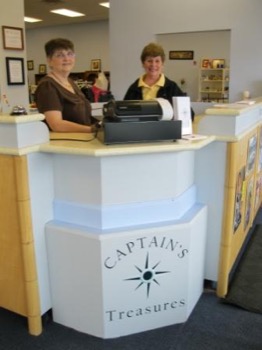 CAPTAIN'S Treasures is a special next-to-new store that provides gently-used, quality clothing and household goods at great savings for families.
Over 60 dedicated volunteers help to operate the store and organize the generous daily outpouring of donations from the community. The store is open every day of the week, with varying day and evening hours. A shopping trip to CAPTAIN's Treasures is an enjoyable, affordable experience for people of all ages and interests. The sales proceeds from CAPTAIN's Treasures help to support CAPTAIN CHS's programs and services.
CAPTAIN's Treasures also provides clothing and household goods at no cost to deserving individuals or families suffering significant hardships, such as victims of domestic violence or theft, or who have lost their homes due to fire or other disaster.
 * We are located right next to Jocelynn's Bridal store and Snyder's Restaurant on Route 9 -  MAP*
Donations are welcome Monday – Friday 9am - 5 pm and Saturday 10am - 3pm at the rear entrance of the building. We do NOT accept donations on Sunday. Please knock and a volunteer will assist you.
Please refrain from dropping off (DUMPING) donations when we are not open or leaving them at the door, as this is against the law. Violators will be prosecuted.