Karyl's Kupboard Emergency Food and Hygiene Pantry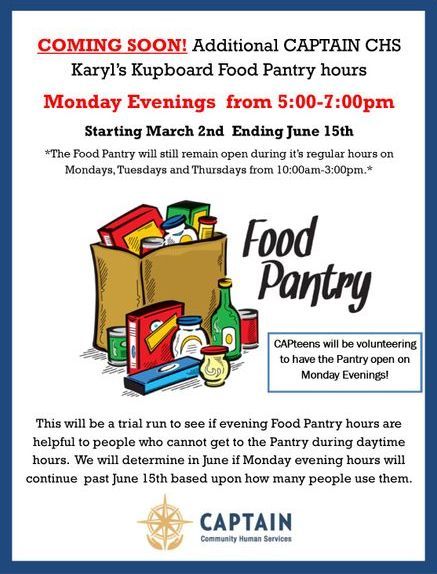 Located at CAPTAIN CHS' Clifton Park office (5 Municipal Plaza, Suite 3), the pantry is open to any member of Saratoga County who is in need of food or hygiene products, and it may be utilized once every 30 days. No appointments are necessary, and there is a simple application.
Karyl's Kupboard is open:
Monday 10:00am - 3:00pm
Tuesday 10:00am - 3:00pm
Thursday 10:00am - 3:00pm
If you have any questions, please call 518-371-1185.
What to bring for your first visit:  Photo ID and proof of address in Saratoga County.
---
Donations
If you'd like to make a donation, please contact us at 518-371-1185, or visit our office at 5 Municipal Plaza, Suite 3 in Clifton Park.
We accept donations during normal business hours.