One of our amazing Getting Ahead graduates, Autumn S. Cardente, advocated on our local Channel 9 for ALICE -- Asset Limited, Income Constrained, Employed -- the "new working poor."  Thank you, Autumn, for working to improve our community!! Watch and learn here.
Through the generosity of the community at large, faith-based organizations, and civic groups, the Family Assistance program coordinates emergency financial assistance to provide temporary relief for financial needs including rental and utility arrears. Families served through Family Assistance are often invited to participate in the Family Development program, especially if they are interested and motivated to take active steps to help improve their life situations.
Family Development
Family Development mentors are available to meet with individuals or families on a one-on-one basis. These trained volunteers provide confidential help to people in areas such as resume building, job searches, and budgeting. Mentors are aware of many resources in Saratoga County, and can be a great support to people who are going through a difficult time.
Getting Ahead - Bridges Out of Poverty
Our Getting Ahead program is a 12-16 week group workshop to help people stabilize their situations and build resources to improve their lives. The Getting Ahead program guides participants through the process of assessing their own resources and how to build those resources as part of their move to self-sufficiency. Getting Ahead participants create their own plan for a sustainable life, explore resources needed for sustainability, build healthy relationships with others, begin the process of writing their own future stories, and examine how they can change the legacy they leave to their families and community. For more information about this program, contact Bonnie at 518-371-1185.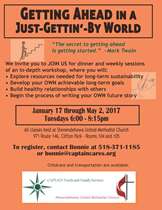 Testimonial from a Getting Ahead Participant :
"That was the 'new me' talking. I am speaking with optimism, and I am much kinder to myself. My confidence is back and I stand taller. My eyes shine with excitement and hope for my future. I can feel that my smile is genuine and I know that when I smile now, I glow.

This is me, who I have always been. I just forgot for a while because life's challenges had really weighed me down. Without CAPTAIN or Getting Ahead, I don't know where I'd be, but I know I wouldn't be here. Getting Ahead has ignited a drive in me to take all that I have learned and share it with those in need so that together, we may never stop growing."  - Getting Ahead graduate
 
Bike Works
Bike Works provides bicycles to residents throughout Saratoga County who are willing to invest some time to learn the basics of bike safety and bike maintenance. With the help of the Stewart's Corporation, CAPTAIN provides new or lightly-used bicycles to deserving individuals for recreation, transportation, and as a means of promoting a healthy lifestyle. With a focus on education and developing a commitment to biking, CAPTAIN staff and community volunteers teach bike safety, maintenance, and repair to area youth throughout the year.
CAPTAIN is currently seeking donations of new or pre-owned bikes in excellent condition. When cleaning out your garage, basement or other storage areas, please consider donating outgrown bikes to our Bike Works program. Call 518-371-1185 for more information on donating or receiving a bike through this program.
Please complete the application and return to Jessica Valcik at CAPTAIN's main office, 5 Municipal Plaza, Suite 3, Clifton Park, NY 12065.