Food Pantry
Because of donations from the community, CAPTAIN CHS is able to provide nourishment to over 200 families each month.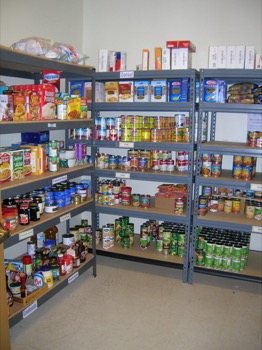 CAPTAIN CHS operates an Emergency Food and Hygiene Pantry known as "Karyl's Kupboard," located at CAPTAIN CHS's Clifton Park office. The pantry is open to any member of Saratoga County who is in need of food, and it may be utilized once every 30 days. No appointments are necessary, and there is a simple application. The pantry is open Monday, Tuesday and Thursday from 10am - 3pm.  We accept donations during normal business hours. 
If you'd like to make a donation, here is a suggested List of Basic Pantry needs.  

Karyl's Kupboard would like to thank the community for the generous donations we receive from caring individuals, families, schools, churches, organizations and businesses throughout the year. We are also a proud member of the Regional Food Bank of Northeastern New York and The Food Pantries for the Capital District.
Food Pantry Items Needed
Price Chopper, Walmart, Target, Hannaford Gift Cards

Gas Cards

Snacks for kids

Juice

Cereal /oatmeal

Tomato Products

Soup

Mac-n-Cheese

Rice/potato/noodle mixes

Peanut Butter

Grape/Strawberry Jelly

Tuna

Hamburger Helper

Canned Fruit

Misc. condiments/Salad Dressings

Dish soap

Paper towels

Juice boxes

Ramen Noodles
Personal Hygiene Items Needed
Diapers (size 2-6)

Pull-Ups (all sizes)

Antibacterial Ointment

Wipes

Shampoo/Conditioner

Body Wash/Soap

Laundry soap

Dryer sheets

Toothpaste/toothbrushes

Dental floss

Poly-grip (for dentures)

Deodorant

Maxi Pads/Tampons

Adult Diapers

Toilet paper

Sewing kits

Bandaids

Foot powder

Razors