Getting Ahead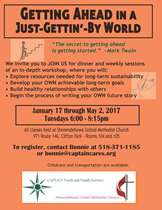 Our Getting Ahead program is a 12-16 week group workshop to help people stabilize their situations and build resources to improve their lives. The Getting Ahead program guides participants through the process of assessing their own resources and how to build those resources as part of their move to self-sufficiency.
Getting Ahead participants create their own plan for a sustainable life, explore resources needed for sustainability, build healthy relationships with others, begin the process of writing their own future stories, and examine how they can change the legacy they leave to their families and community.
Testimonial from a Getting Ahead Participant :
"That was the 'new me' talking. I am speaking with optimism, and I am much kinder to myself. My confidence is back and I stand taller. My eyes shine with excitement and hope for my future. I can feel that my smile is genuine and I know that when I smile now, I glow.

This is me, who I have always been. I just forgot for a while because life's challenges had really weighed me down. Without CAPTAIN or Getting Ahead, I don't know where I'd be, but I know I wouldn't be here. Getting Ahead has ignited a drive in me to take all that I have learned and share it with those in need so that together, we may never stop growing."

- A Getting Ahead graduate
For more information or to register, contact Bonnie at 518-371-1185.