Karyl's Kupboard Emergency Food & Hygiene Pantry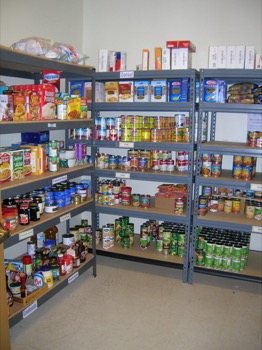 CAPTAIN CHS operates an Emergency Food and Hygiene Pantry known as "Karyl's Kupboard."
Located at CAPTAIN CHS's Clifton Park office (5 Municipal Plaza, Suite 3), the pantry is open to any member of Saratoga County who is in need of food, and it may be utilized once every 30 days. No appointments are necessary, and there is a simple application.
The pantry is open Monday, Tuesday and Thursday from 10am - 3pm. 
What to bring to your first visit:
  Photo ID - you will need photo ID for each visit
  Proof of address in Saratoga County
---
Donations
Because of donations from the community, CAPTAIN CHS is able to provide nourishment to over 200 individuals each month.
If you'd like to make a donation, please contact us at 518-371-1185 or visit our office at 5 Municipal Plaza, Suite 3 in Clifton Park. We accept donations during normal business hours. A list of needed items is below.
Karyl's Kupboard would like to thank the community for the generous donations we receive from caring individuals, families, schools, churches, organizations and businesses throughout the year. We are also a proud member of the Regional Food Bank of Northeastern New York and The Food Pantries for the Capital District.
Adopt-a-Program
To assist our member programs with their important work of feeding those in need, the Regional Food Bank of Northeastern New York developed a fundraising effort called Adopt-a-Program, or AAP. AAP establishes lines of credit for member agencies to offset their shared maintenance contributions and the costs of purchased food. These credits enable programs to secure more food for their clients. 100% of AAP contributions go on account for member agencies. AAP also allows the Food Bank to extend its reach throughout a 23-county service area, and allows donors to keep their funds in the local community.
To direct your donation to Karyl's Kupboard at CAPTAIN CHS, be sure to include either "Karyl's Kupboard" or "CAPTAIN CHS" under the "Adopt-a-Program" field online.  Click here for the link.
---
Food Pantry Items Needed
Snacks such as crackers and granola bars

Canned vegetables, especially peas, carrots, mushrooms, spinach

Tomato products - sauce, paste, diced, pasta sauce

Canned fruits of all kinds

Misc. condiments/salad dressings
---
Personal Hygiene Items Needed