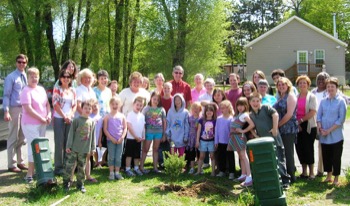 MISSION & VISION
CAPTAIN Community Human Services supports and empowers people of all ages to reach their goals of personal growth and self-sufficiency. We strengthen communities.
As a volunteer-driven organization, CAPTAIN CHS strives to be a recognized leader in finding effective solutions to social issues in the communities we serve.
---
VALUES
Volunteer Driven:  We have deep roots in the community, providing many opportunities to give and serve.
Excellence:  We approach all our work with integrity, aspire to be professionally respected, and challenge ourselves to respond to the changing needs of our community.
Respect:  We have respect for the dignity of our clients, colleagues and community.
Accessibility:  We are easily accessible and open to everyone.
Collaboration:  We collaborate with a broad spectrum of community partners.
Fiscally Responsible:  We are good stewards of all our resources.
---
HISTORY
In 1977, a group of concerned parents, teens and community members came together to create a grassroots organization to help troubled teens. That movement soon became known as CAPTAIN -- Community Action for Parents, Teens and Interested Neighbors. Since then, CAPTAIN has developed into one of the most recognized and highly respected volunteer-driven organizations serving the principal needs of youth, individuals and families in Saratoga County and beyond.
In May, 2017, CAPTAIN Youth and Family Services Inc. and Community Human Services (CHS) announced a merger to form a larger nonprofit organization focused on social services.  In December 2017, the organization became officially known as CAPTAIN Community Human Services.  Together, the organizations bring over 80 years of experience serving the local community.
View the merger announcement by clicking here.
The merger came about when John Irving, CHS Executive Director, notified the CHS Board of his desire to retire, and the nonprofit began its search for a new Executive Director. The Board authorized Irving to also research nonprofits in the Capital District to see if another agency might want to collaborate with CHS. Irving immediately identified CAPTAIN as a possible partner.  Given a rich history of working together, the fit was perfect and the merger struck.
CHS had been serving the needs of families, children and individuals in Northern Schenectady and Southern Saratoga Counties for over 41 years, focusing their programming efforts on families with children and children with disabilities as well as support for our community's seniors. These programs now fall under the umbrella of CAPTAIN Community Human Services, including job match and employment skills, family support and respite services, and Care Links of Southern Saratoga County, which helps to keep people aged 60+ living independently in their home as long as possible. In addition, the Wellness Express Transportation Program provides free transportation to medical appointments to area seniors.
For over 40 years, CAPTAIN had been providing programs that address the core issues facing our society today, including homelessness, poverty, youth violence, hunger, academic failure, family dysfunction, and human trafficking. CAPTAIN approached and continues to approach these issues through numerous programs and services.
Combined, CAPTAIN Community Human Services has over 30 programs and services that address the needs of the community, and will be positioned in strength and flexibility to face the new challenges and issues that will arise.  We continue to work hard to lift people up and build brighter futures.
Below is a list of some of our major programs.
School Social Work at Burnt Hills-Ballston Lake School District
The ongoing success of these programs is due, largely in part, to an extremely strong and dedicated CAPTAIN CHS Volunteer Corps. To learn more about volunteering, click here.