Street Outreach Project
We're here to help.
Call or text 518-469-7897 to be connected with an outreach worker Monday-Friday.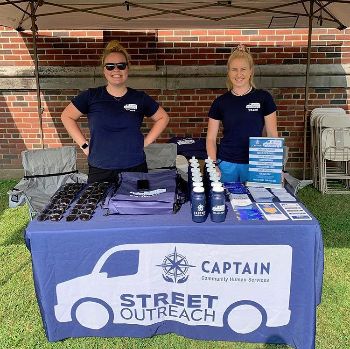 A compelling service of CAPTAIN Community Human Services, our Street Outreach Team connects dedicated staff directly to youth ages 13-21 years old who experiencing homelessness or at-risk of becoming homeless.
We meet youth where they are: on the street, in encampments, shelters, or our drop-in centers and provide a wide range of support services.
Our mission includes working with youth, individuals, and families who are dealing with housing crises, homelessness, and runaway issues. We are always available at no charge to runaways, the truly homeless, and those at risk of homelessness, and will remain committed to this.
Street-Based Services Offered
The Street Outreach Project helps youth identify and reduce barriers that may exist between themselves and their dreams and goals. We do so by offering:
Street-based outreach and education
Crisis intervention
Access to basic needs (clothing/food/hygiene) and emergency shelter placements
Individual assessments and case management
Referrals to needed services, such as medical services, family counseling, sexual assault and crisis rape relief counseling, and drug and alcohol counseling
Coordination with community partners such as schools, law enforcement, local youth and adult emergency shelters, and transitional living programs
Relationship-building with trustworthy adults
Follow-up support
Drop-In Centers
Stationary drop-in centers operate at scheduled times in community buildings where youth can "drop in" and receive services or just hang out. Our mobile drop-in centers allow us to mobilize our resources and distribute emergency basic needs wherever we go.
CAPTAIN CHS's IMPACT:

As told by Keegan Burke, Street Outreach Manager

"This particular youth was our first trafficking victim that we worked with. When we met Jill (name has been changed), she rarely attended school and had a 38 (out of 100) GPA in math and earth science. We were able to utilize our Safe Harbour funding to help this family access therapy and tutoring, which has proven to make a night-and-day difference!

I spoke to Jill at our periodic check-in and almost didn't recognize her voice! This was a girl who couldn't look anyone in the eyes or really look past the floor, unable to have 'female friends' due to the fact that she KNEW she would be rejected or made fun of, and completely unable to maintain relationships due to her depression. But now Jill was bubbly and outgoing! She actually told me she was PROUD of herself.

Jill's family recently sent us an email to let us know that Jill passed her math regent -- with the highest score in her class. 'Thank you for all you've done for her,' the relative wrote. 'To hear that call from Jill and how proud she was is the most amazing gift you could have given to me. She's come such a long way.'"
Runaway & Homeless Youth Services
CAPTAIN CHS operates a shelter for runaway and homeless youth.  For more information, click here.
Resources
Other good resources: