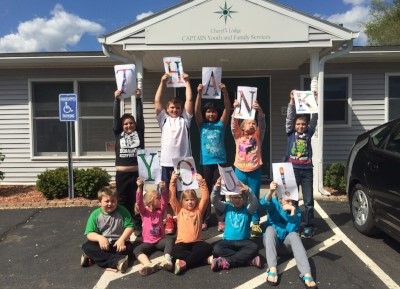 Cheryl's Lodge
CAPTAIN CHS's Community Outreach Center in Halfmoon Heights offers programming for children, families, and seniors. Contact us at 518-373-8873 for more information!
Current Open Applications & Information
Programs and Services
Camp CAPTAIN Cares

Camp CAPTAIN Cares is a four day volunteer camp for income-eligible students in middle school, typically held the second week of August. Students learn about giving back to their community and take a daily field trip to do volunteer projects. Past year projects include cleaning the Ronald McDonald House, painting picnic tables for Clifton Commons, and making pillows for homeless youth. Applications are available beginning April 1st and will be posted on our website.

Enrichment Activities

For children, these include crafts, art classes, field trips, movie nights, and sports programs.

Family Assistance

Available to Halfmoon Heights residents.

Operated by the Saratoga County Economic Opportunity Council, this is a classroom for 3 and 4 year-olds.

School Aged Programs: After School Support

Our free After School Support program helps our community's less privileged youth compete in today's academic world by offering unique extracurricular activities and education support.

When positive relationships with teachers are formed outside of the traditional school environment, grades improve, drop decreases, and the participants are able to see themselves as potential success stories.

During the school year, our Homework Help program for grades K-12 is made possible through the efforts of 50 caring and dedicated volunteers.

The program operates Mondays - Thursdays from 2:35pm to 3:45pm for elementary students, from 4:00pm to 5:00pm for middle school students, and from 5:00pm to 6:00pm for high school students.

HSE Program (formerly GED)

High School Equivalency (HSE) classes, offered through a partnership with Capital Region BOCES, are held on Tuesday, Wednesday, and Thursday evenings from 6:00pm to 8:00pm for students age 17 and older.

To participate in HSE classes, contact Capital Region BOCES at 518-862-4707. Once registered, you'll take the pre-test at the next available testing date and join the class following your test.

Income Tax Preparation (VITA)

Offered January through April, people earning less than $56,000 per year can receive free income tax preparation at CAPTAIN CHS. Call 518-371-1185 to schedule an appointment.

Little Free Library

Stocked with children's books received through donations, this book exchange program promotes a love of reading and a sense of community. Take a book; leave a book!

Parent Education

On an as-needed basis, parent education programs are offered at Cheryl's Lodge. Recent programs have included "Internet Safety: What Parents Need to Know" and "How to Help Your Child with Reading." Keep an eye on our calendar and Facebook page for upcoming events.

Peace Camp

Peace Camp is an intensive, four-week summer day camp located at Cheryl's Lodge, uniquely designed for elementary school children who are experiencing behavioral or social problems at home and school. Through the use of drama, arts, music, and recreation, youth are taught peaceful, effective communication skills to help them more appropriately deal with difficult situations.

Peace Camp uses a variety of learning opportunities to impart skill development in areas such as: conflict resolution, teamwork, cooperation, problem-solving, social appropriateness, communication, and anger management. It also requires parents to participate in camp activities to ensure that the family is also learning peaceful communication skills together.

Every year, Peace Camp serves approximately 40 campers, free of charge.

All Shenendehowa students are eligible to participate. Applications are available April 1st and are posted above.

Senior Citizen Gatherings

For ages 55 and above, join us once a week for dessert, refreshment, lively conversation, and a game. Call 518-373-8873 for dates and times.

Youth ages 1 through 18 can enjoy healthy and filling meals through our Free Summer Meals program.

Summer Reading Enrichment Program

Splash Into Reading is a five-week literacy program for Shenendehowa students entering kindergarten or first grade. Volunteers work with the students on letter recognition and writing, word recognition, and small group reading. Applications are available beginning May 1st and will be posted on our website.

Summer Youth Employment

During the summer, a crew of youth learn job skills by working in our Summer Meals and Peace Camp programs. Their employment is funded by the Saratoga County Department of Employment and Training.

Teens Reaching Heights

Teens Reaching Heights is a program designed for middle and high school students, offering the opportunity to participate in "What's Cookin" - a dinner program once a month. Teens also raise funds through bottle return donations that allow their participation in community field trips and events.
Peace Camp 2017 Video
Photos from Cheryl's Lodge
Volunteer at Work

Ribbon Cutting at Cheryl's Lodge

Peace Camp Students

Making a Difference

Volunteers at What's Cookin'

Volunteer at Work

Helping With Homework

Thank You from Cheryl's Lodge!

Volunteer and Students

Working Together