Care Links, a program of CAPTAIN Community Human Services, is proud to be celebrating our 25th year of service to seniors in Southern Saratoga County! At Care Links, we strive to make it possible for seniors in the community to live active lives in their own homes by connecting seniors with dedicated volunteers who provide services such as transportation, friendly visits, shopping and errands, and more.
Ed Baranowski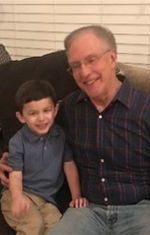 We've been incredibly lucky to have Edward Baranowski as one of our wonderful volunteers. Edward, a GE Retiree (of eight years), enjoys golf, walking and reading.
We asked Edward to share in his own words about his 8-year experience in making a difference in the lives of those he encounters through the Care Links program.
What made you decide to volunteer with Care Links?
"I knew some Care Links volunteers; they all felt it was a great program." 
What have you personally gained through your experience with Care Links, what have you enjoyed the most?
"A feeling that what I am doing gives back to the community. Additionally, I have had the pleasure of meeting many interesting people." 
How do you make the most out of your experience with the seniors you come in contact with?
"I attempt to relate to them by chatting about current events, their families and favorite activities." 
What advice would you give to someone interested in volunteering with the Care Links program?
"If you are seeking a way to give back to the community, it is a great vehicle."