Care Links, a program of CAPTAIN Community Human Services, is proud to be celebrating our 25th year of service to seniors in Southern Saratoga County! At Care Links, we strive to make it possible for seniors in the community to live active lives in their own homes by connecting seniors with dedicated volunteers who provide services such as transportation, friendly visits, shopping and errands, and more.
Mary Alice O'Brien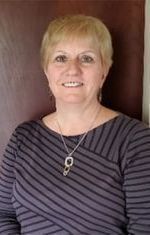 We've been incredibly lucky to have MaryAlice O'Brien as one of our wonderful volunteers. Mary Alice is a wife (for 34 years), mother of two sons (Kevin and Sean) and grandmother to Finnegan and Charlotte. She is a long term resident of Mechanicville (currently a 3rd generation family member living in the house built by my grandfather in 1923). She has worked most of her life in Higher Education (at RPI for 42 years) doing administrative and IT work and is currently the Director of Enterprise Information Services. She enjoys reading, hiking, walking and generally doing anything outdoors.
We asked Patricia to share in her own words about her 8-year experience in making a difference in the lives of those she encounters through the Care Links program.  
What made you decide to volunteer with Care Links?
"I was doing a lot of volunteering through my church at the time and introduced to Care Links. I thought it sounded interesting so I signed up and I have never looked back!

Since I work full-time, my volunteer work has been mainly nights and weekends. I have done dialysis transports, general home visits, laundry, light chores, shopping and reassurance calls." 
What have you personally gained through your experience with Care Links, what have you enjoyed the most?
"So much! I get as much back from the seniors as I give them. They are great people and each of them has become a friend or extended family member. I have only had positive experiences with the women (they have all been women) that I have worked with. Many of them are just lonely and want someone to talk to, I love listening to their stories of "the old days." I think they are hoots! 

My parents both died when I was young so they have filled a void in my life as well. 

It is gratifying to know that we make a difference in so many lives. Our services allow the elderly to remain independent in their homes. It just takes a little support (shopping, doctor transports and check-ins) to keep them in their homes. We provide that needed stability. I expect I may need to take advantage of these types of services myself someday so it's important to keep the pipeline going!"
How do you make the most out of your experience with the seniors you come in contact with?
"You just go with the flow. Every senior I have worked with is different with different needs. I think the key is remaining open and flexible but laying out expectations (both ways) from the beginning.  

I have had some women that I've merely shopped for or made reassurance calls to. I have made numerous dialysis runs. I have had women whom I've become very close to who I have spoken to almost daily and had to my home for occasions and holidays. 

It depends on the individual and what your personal needs and wants are, they will accept anything you can offer!" 
What advice would you give to someone interested in volunteering with the Care Links program?
"Just Do It! You won't regret your choice. There is so much need and you can devote as much time as you have. I am an example of being able to fit in volunteering while working full-time. You may have a lot of available time to give or you may only have a few hours a week. If your time is limited, or if visitations are not a desire or possible, you can always shop or just make reassurance calls. Just a couple of hours a week goes a long way with a lonely senior."