Care Links, a program of CAPTAIN Community Human Services, is proud to be celebrating our 25th year of service to seniors in Southern Saratoga County! At Care Links, we strive to make it possible for seniors in the community to live active lives in their own homes by connecting seniors with dedicated volunteers who provide services such as transportation, friendly visits, shopping and errands, and more.
Robert Alvaro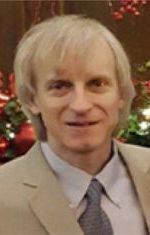 We've been incredibly lucky to have Robert Alvaro as one of our wonderful volunteers. Robert is a local resident of Clifton Park, employed by GE Power, and a graduate of SUNY and RPI. His interests include spiritual reading, spending time with his family and completing projects around his home. He attends a parish in Waterford and is active in his church community.
We asked Robert to share in his own words about his 5-year experience in making a difference in the lives of those he encounters through the Care Links program.
What made you decide to volunteer with Care Links?
"I first became aware of Care Links through my wife who volunteered successfully in the past with phone calls and short visits with seniors. After some thought on how I might give back to the community, I noticed an ad in a local newspaper for Care Links. I was unsure what I could do to assist based on my schedule. At first assisted with transportation to medical appointments and later shifted to grocery shopping after hours to better align with my availability." 
What have you personally gained through your experience with Care Links, what have you enjoyed the most?
 "Helping out those in need, especially during the recent pandemic, is very rewarding. Those unable to shop for themselves really appreciate being able to create a shopping list, review the list in detail with a volunteer, and then have the groceries delivered. Although the routine needed to change due to the pandemic, and some items were harder to find, the seniors very much appreciate any assistance that can be provided. I have gained an appreciation of the needs of those in the local community that often go unnoticed."
How do you make the most out of your experience with the seniors you come in contact with?
 "Being available on a regular basis, with preplanned volunteer dates, allows myself to coordinate with each client efficiently and at the same time provides peace of mind for those in need."
What advice would you give to someone interested in volunteering with the Care Links program?
"Contact Care Links, ask how the program works, what the current needs are, then select an activity that aligns well with your schedule and care giving ability. Know that somewhere, even in your own hometown, someone is in need and you can make a difference."