Care Links, a program of CAPTAIN Community Human Services, is proud to be celebrating our 25th year of service to seniors in Southern Saratoga County! At Care Links, we strive to make it possible for seniors in the community to live active lives in their own homes by connecting seniors with dedicated volunteers who provide services such as transportation, friendly visits, shopping and errands, and more.
Robert O'Connell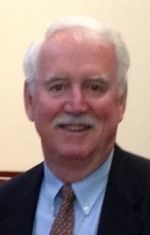 We've been incredibly lucky to have Robert O'Connell as one of our wonderful volunteers. Robert is a retired social worker, having spent 40 years in the field of aging working in the private sector and at various levels of government. He is married (going on 57 years) and the father of two daughters and a son who have gifted he and his wife Carol with eight wonderful grandchildren. 
We asked Robert to share in his own words about his 12-year experience in making a difference in the lives of those he encounters through the Care Links program.  
What made you decide to volunteer with Care Links?
"I became involved with Care Links when a fellow parishioner asked me to assist in a related task. 

In my professional life, I long recognized the valuable role that family caregivers played in the lives of their parents and older relatives and felt that Care Links was an excellent place to support the families.

In addition, under Care Links the volunteers have great flexibility in choosing what to do and when to do it."  
What have you personally gained through your experience with Care Links, what have you enjoyed the most?
"I do a lot of driving to medical appointments and enjoy chatting with the care receivers and listening to their stories…. amazing family histories, where they came from, what they did, hobbies, etc. I am also on the Senior Services Committee which supports Care Links and deals with other needs of older residents."  
How do you make the most out of your experience with the seniors you come in contact with?
"The gratification expressed by the care recipients is so rewarding. While sitting and waiting for appointments to end is an excellent time to catch up on reading!" 
What advice would you give to someone interested in volunteering with the Care Links program?
"Be open to something new as it is so rewarding. It is an opportunity to help your community, be part of an organization like CAPTAIN Community Human Services, Care Links. Make a difference in a person's life and take advantage of the choice and the flexibility that Care Links provides."