Care Links, a program of CAPTAIN Community Human Services, is proud to be celebrating our 25th year of service to seniors in Southern Saratoga County! At Care Links, we strive to make it possible for seniors in the community to live active lives in their own homes by connecting seniors with dedicated volunteers who provide services such as transportation, friendly visits, shopping and errands, and more.
Suzanne Palmieri-O'Connor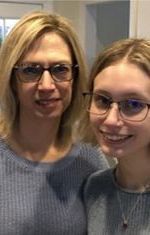 We've been incredibly lucky to have Suzanne and Jillian as two of our wonderful volunteers. Suzanne Palmieri-O'Connor is a Family Physician at Ellis Primary Care and the mother of two girls aged 15 and 16.
We asked Suzanne to share in her own words about her experience in making a difference in the lives of those she encounters through the Care Links program.  
What made you decide to volunteer with Care Links?
"My daughters and I were looking to help people during COVID-19, knowing how limited people were with shopping and trying to stay safe. My daughter Jillian was the one who kept pushing me to call."  
What have you personally gained through your experience with Care Links, what have you enjoyed the most?
"It is a wonderful feeling to know that you have helped someone. It makes me feel as good as the person we are helping and we have also made a new friend."  
How do you make the most out of your experience with the seniors you come in contact with?
"We are currently providing "no-contact" shopping services. We ask about their day and talk to them a little longer when needed."  
What advice would you give to someone interested in volunteering with the Care Links program?
"Make the time to help someone in need; you will get more out of it than they do."