Care Links 2022 Annual Appeal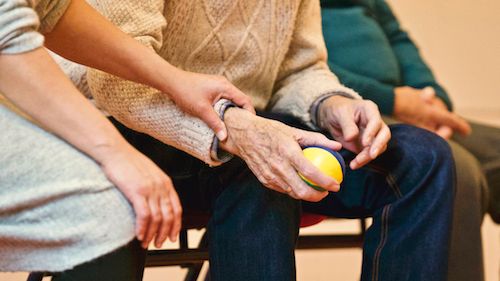 We would like to tell you a story. It's a true story about the life your generosity makes possible.
Some time ago, a man named Joseph reached out to our Care Links program. He was in his 70s and battling cancer. He'd already lost his wife and his family lived far across the country.
His days were filled with pain, sadness, and loneliness.
Because of you, Care Links was there for him. Will you be there for the next senior in need?
In his younger days, Joseph was active. He played tennis and golf and enjoyed nothing more than a brisk morning hike up a trail he'd never tried before.
A few years ago, all of that changed when Joseph began experiencing pain and eventually received his cancer diagnosis. Facing seemingly impossible obstacles, Joseph decided he wanted to return to some of his passions – as much as was possible.
Yet, like many seniors, Joseph was alone.
Seniors like Joseph need you. Will you be a hero for homebound seniors and give today?
One in six seniors in our community face physical or geographical barriers that not only isolate them from friends and neighbors, but prevent them from accessing important care and valued benefits and services. These past years have only increased the need.
Joseph reached out to our Care Links program to seek friendly visiting services. He was looking for someone to connect to and share in what little activities his mobility allowed.
Unfortunately, we did not have a volunteer at the time and he was added to the Care Links waiting list.
Like you, our staff and volunteers work hard to support our community's most vulnerable, especially today. Yet, it's not enough. Your support is needed to better enable outreach efforts and support for community volunteers.
The days passed and our staff worked diligently to recruit and support volunteers to provide friendly visiting, transportation, and other needed services so seniors like Joseph can age comfortably in their own homes.
Then, David called our office.
David is a retired attorney who recently relocated to our area with his lovely wife. He wanted to spend his days making a difference in our community.
The more our staff spoke with David, the more we realized that he would be the perfect companion for Joseph. David loved tennis and golf and had the same passion for visiting unknown places as Joseph.
Because of the support you provide, our staff were able to connect with David and make a match.
David and Joseph met on a Tuesday afternoon with our Program Manager. Within minutes, it seemed they were old friends. Their shared passions quickly turned into shared stories and they began finishing one another's sentences.
Within minutes, Joseph was laughing.
The pain and hopelessness that Joseph felt when he came to Care Links began melting away. We saw his smile for the very first time. This was all possible because of your support.
Will you be a hero and ensure seniors like Joseph can make the important connections that sustain joy through the challenges of aging and illness?
Your kindness is the reason that David and Joseph enjoy weekly visits to this day. It's the reason Joseph will not live his final years in loneliness and quiet.
Your donation is why so many seniors come through the program with a dramatic improvement to their quality of life.
Every day, more and more seniors contact Care Links looking for help. They're in need of transportation, help with errands, and often, like Joseph, just someone to talk to.
We know you're a generous person that cares for the seniors in our community. We know that this year is tough for many of us, but it's too important not to ask.
Will you be there for Joseph and the seniors in our community by donating to Care Links and enabling seniors to age joyfully, and safely, in their own homes?
When you give, you connect seniors like Joseph to trained volunteers and empower seniors to age-in-place by removing those barriers to a self-sufficient and fulfilling life.
In the weeks and months ahead, seniors like Joseph are going to need your support. Will you be there by sending a check today?
The heart of a volunteer is a beautiful thing and the joy brought about is contagious. While there are many days where Joseph faces challenges, David brings him compassion, understanding, and joy.
David gave so generously of his time. We hope that you will also give generously today!
There are many seniors waiting to connect to volunteers who care and your gift not only enables that connection, but helps to provide training, activities, and support for the volunteers who give so selflessly.
If you want to know more about being a hero for seniors, please call me at 518-399-3262.
With warm regards,
Andy Gilpin, Executive Director
Francine Rodger, Senior Resource Committee Chair
Care Links services the towns of Ballston (including Burnt Hills), Charlton, Clifton Park, Halfmoon, Malta, and the city of Mechanicville. Care Links receives funding from these towns, the Saratoga County Department of Aging and Youth and contributions from participants and the community.