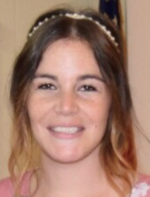 Ten Questions with Stephanie Sullivan Foard, Employee of the Quarter
What is your job title?
Care Links and Wellness Express Program Manager
How long have you been working at CAPTAIN CHS?
Two years in October!
How did you first learn about CAPTAIN CHS?
I learned about CAPTAIN CHS through the Summer Meals Program. A meal site was placed at the Park Avenue Playground in Mechanicville, where I oversaw a youth drop in camp.
What motivates you to wake up and go to work?
I love what I do! My grandmother always said- if you find a job you love, you never work a day in you life. I am fortunate to say that this is how I feel coming into work everyday.
What does a typical work day look like to you?
It varies most days. I could be in the office doing reports, paperwork, answering calls, etc. I could be out in the community doing home visits with care receivers or match meetings with our volunteers. I could be also be out networking and recruiting volunteers. There is always something to do.
What is your proudest moment at CAPTAIN CHS?
Being awarded with employee of the quarter!
Do you have a favorite quote?
My favorite quote - which you will find on the wall in my office. "Darkness cannot drive out darkness; only light can do that. Hate cannot drive out hate; only love can do that." - Martin Luther King, Jr.
What do you like to do when you're not at work?
Be with my 3 dogs- whether it is taking a walk, playing out in the yard, or watching them while they snooze on the couch!
What are five words (or less) of advice for others in your profession?
Always learn from others
What else should we know about you?
I am a huge book worm -  I love to read and would choose to stay home and read my life away if it was possible!!