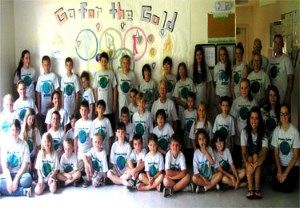 CAPTAIN Community and Human Services is proud to present the twenty-sixth year of Peace Camp!
Peace Camp is a free summer camp that promotes teamwork, cooperation, problem-solving, and conflict resolution skills. The camp includes games, crafts, and recreational activities for Shenendehowa School District youth in grades 1-5.
"We were very happy to have the opportunity to offer an in-person camp," said Executive Director Sue Catroppa. "Peace Camp isn't your traditional summer camp. It's a powerful, transformative experience for students to build on their communication and social skills."
Instead of the usual four weeks, Peace Camp will be offered in two sessions, each with half-day programs running two weeks. The modification was made to meet cleaning and social distancing recommendations and requirements while serving the greatest number of youth possible. This year's camp will continue to provide planned activities, guest speakers, and snacks to all children in attendance.
"Cheryl's Lodge, our Outreach Center in Halfmoon Heights, has really played a vital role in supporting the surrounding community," continued Catroppa. "We've been serving over 800 meals a week out of the center through deliveries, and offering many different virtual and grab-and-go opportunities for youth and families to extend their educational experiences throughout the current school year and coming summer."
Cheryl's Lodge Outreach Center provides a multitude of programs during the year, including afterschool Homework Help, a High School Equivalency program, family assistance, services for seniors, and more. During the crisis, in-person services have been severely limited, but CAPTAIN CHS has committed to meeting the need in innovative ways.