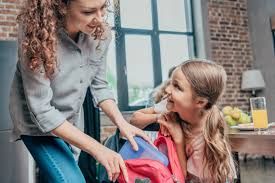 For some children, heading back to school can be a dreaded time. With transitioning from one grade to the next, social pressures, and the added stress of going back to school during a pandemic, these tips can help you get your children into the routine of school.
Ease the stress and establish routines.
Keep communication open and stay positive! Talk to your child about any concerns they may have, and also talk about all the fun and exciting things that will be happening this school year.
Establish fun traditions. Make a tradition of doing something fun the night before school starts every year, have a special breakfast the morning of the first day back; something fun that will make your child look forward to going back to school every year.
Get back on schedule. Before school starts, start establishing school year bedtimes, wake your children up at the times they will be getting ready for school, and eat meals on a more regular schedule. Make sure these expectations are set for the school year so that everyone is able to get out the door on time every day.
Make it special. For younger children, include a special note or a family photo in their lunchbox for them to look forward to every day. 
Get organized. Create a family calendar where all important assignments and after school events are clearly displayed. Prepare lunches and school bags the night before. Keep all homework and school supplies in an easily accessible and organized spot in the house and create a daily to-do list for when your children get home from school.
Encourage being a friend and making new friends.
Some kids will worry about "fitting in" and making friends when they get back to school. Finding a safe and welcoming group is a great foundation for your child to deal with the stresses of school.
Coach your children and set expectations at an early age for appropriate behavior. Pay attention to how they interact with their friends to identify any words or actions that could be harmful to another person's feelings.
Teach your child empathy and how to be a good friend.
Do not tolerate bullying between siblings. Based on research, hostility between siblings can leave a lasting, detrimental impact.
Know your child's online world. Check their postings and sites, and be on the lookout for cyber bullying.