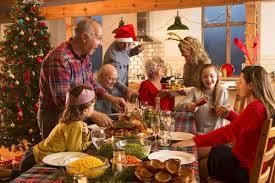 It may be hard to get yourself into the holiday spirit this year, but before you try to fast forward to next year, let us help you find ways to still have some fun this holiday season. We're sure that the last thing you want to do is lose another holiday full of traditions to the pandemic, so we have put together a list of activities that you can try with your family this year. While it may not look exactly the same as it usually does, there are plenty of ways to get creative and find new ways to celebrate!
Here's how you can make your holidays special, even if you have to celebrate away from your friends and family.
Make the most of the traditions you can safely continue. It's so easy to get caught up on all the things that we can't do this year that we aren't remembering how many fun traditions we still can do. Whether you're alone for the holidays or with family, you can still pick out and decorate a Christmas tree, hang lights outside your house for your neighbors to enjoy, bake your favorite cookies, and cook your favorite holiday meals. Stay positive by getting excited about all the traditions that you can still enjoy this year!
Host a Zoom cookie decorating party. Invite your friends and family to join you in decorating Christmas cookies! Share a recipe for everyone to bake in their own homes and then hop on Zoom, play Christmas music and have fun decorating cookies with each other just as you would if you were physically together!
Share your recipes. If you live within driving distance of your family and friends, have everyone make their traditional holiday dishes, portion them out, and then drop them off on everyone's doorstep. This way you can enjoy your favorite holiday meals and you don't have to more than you normally would! If your family is more spread out and this isn't possible, have everyone share their recipes with each other so each household can make their favorite dishes for themselves!
Make special memories. We know that you may be getting tired of spending every day with the people that you live with, but try to make the holiday time with each other special. Switch up your normal routine to get into the holiday spirit and make an effort to enjoy a festive activity with each other every day. You don't have to do anything too elaborate; watch Christmas movies together, drink hot cocoa, or wear Christmas pajamas. The little things are what will help make your holiday season brighter.
Make the most of it. While you may not remember exactly what happened at the holidays year after year, you tend to remember the different ones, the ones that stood out; keep that in mind if you're having trouble getting yourself into the holiday spirit this year. This will be a year that you remember, and different doesn't necessarily have to be a bad thing. Make sure you remember the holidays this year for the right reasons and find a way to make the most of a bad situation.