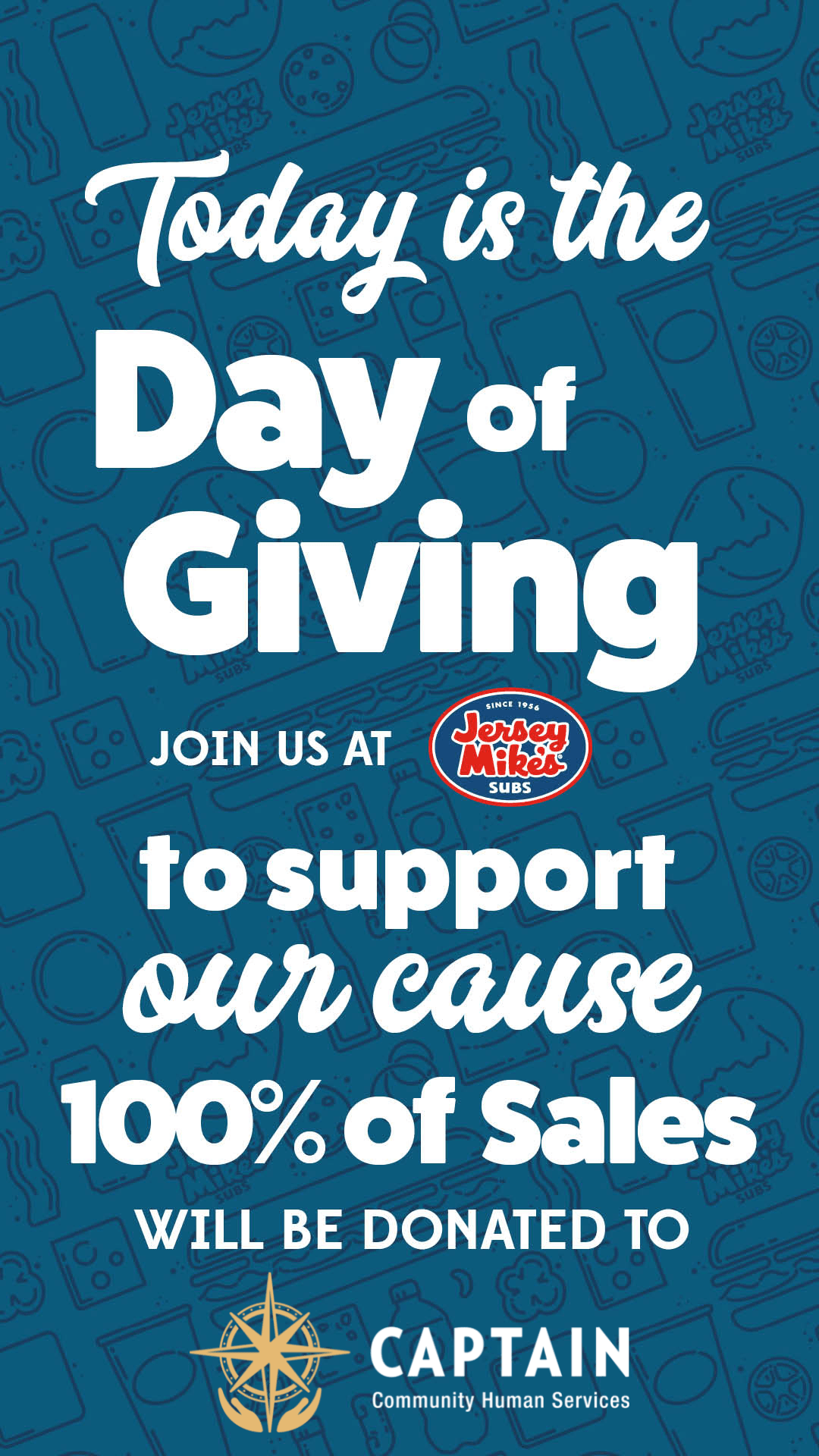 WHAT: Wondering what to eat and like helping others? Head to Jersey Mike's Subs on Wednesday, March 29 and grab a sub: 100 percent of your purchase will go to local human services charity, CAPTAIN Community Human Services (CHS).
That's right – on March 29, the hardworking teams at 11 Jersey Mike's locations in the Capital District/North Country/Mohawk Valley area will give every single dollar in sales, not just the profit, to CAPTAIN CHS. It's all part of Jersey Mike's 13th Annual nationwide Day of Giving.
WHO: All month, generous customers have been making donations at nearly 2,500 Jersey Mike's locations throughout the nation during the 13th Annual "Month of Giving" fundraising campaign for local charities. On March 29, Day of Giving, it's our turn to give and we're giving it all away!
WHEN: Wednesday, March 29, 2023– All day!
WHERE: Participating Jersey Mike's restaurants include -
109 Wolf Road, Albany, NY
4930 State Highway 30, Amsterdam, NY
5 Southside Drive, Clifton Park, NY
380 Feura Bush Road, Glenmont, NY
1206-10 Western Avenue, Guilderland, NY
800 Loudon Road, Latham, NY
4 Kelch Drive, Malta, NY
756 Upper Glen Street, Queensbury, NY
307 Troy Road, Rensselaer, NY
1410 Altamont Avenue, Rotterdam, NY
3057 Route 50, Wilton Plaza, Saratoga Springs, NY
WHY: Come out and help a charity where you live: Buy lunch, dinner or a catered meal and we'll pay it all forward!
FAST FACTS:
Jersey Mike's locations nationwide give 100% of ALL sales on Day of Giving as part of the company's annual Month of Giving campaign in March.
During this year's Month of Giving in March, Jersey Mike's hopes to surpass last year's record-breaking $20 million fundraising total. Proceeds support more than 200 local charities across the country striving to fulfill their missions and make a difference.
Since 2011, Jersey Mike's Month of Giving has raised more than $67 million for local charities, including over $140,000 for CAPTAIN CHS.
Jersey Mike's is committed to "Giving…Make a Difference in Someone's Life." For more information, please visit www.jerseymikes.com or follow us on Facebook @jerseymikes, Instagram @jerseymikes, and Twitter @jerseymikes. Join in the conversation at #JerseyMikesGives.
About Jersey Mike's
Jersey Mike's Subs, with nearly 2,500 locations nationwide, serves authentic fresh sliced/fresh grilled subs on in-store freshly baked bread — the same recipe it started with in 1956. Passion for giving in Jersey Mike's local communities is reflected in its mission statement "Giving…making a difference in someone's life." For more information, please visit jerseymikes.com or follow us on Facebook (facebook.com/jerseymikes), Instagram (instagram.com/jerseymikes), and Twitter (twitter.com/jerseymikes.com).