Care Links, a program of CAPTAIN Community Human Services, is proud to be celebrating our 25th year of service to seniors in Southern Saratoga County! At Care Links, we strive to make it possible for seniors in the community to live active lives in their own homes by connecting seniors with dedicated volunteers who provide services such as transportation, friendly visits, shopping and errands, and more.
Jeanne Bush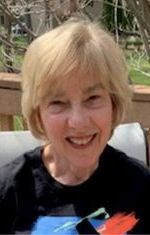 We've been incredibly lucky to have Jeanne Bush as one of our wonderful volunteers. Jeanne (along with her husband Bob), a retired Middle School Librarian, has lived in Clifton Park for over 40 years. Her son and his family live in West Hartford, CT where she loves to visit her two grandchildren as often as possible. She enjoys traveling and especially loves to visit and hike in our National Parks. She is a life-long exerciser and looks forward to soon getting back to classes at her local YMCA. You can also find her on her daily neighborhood walks with her dog, Sparky.  
We asked Jeanne to share in her own words about her 7-year experience in making a difference in the lives of those she encounters through the Care Links program.
What made you decide to volunteer with Care Links?
"I attended a luncheon where a presentation about Care Links was given. I had been looking for a place to volunteer that would also work around my personal schedule. When I heard about the transportation option, where volunteers provide rides for seniors to medical appointments, etc., it seemed to be a perfect fit for me. It provided the flexibility I needed as drivers can volunteer for a ride on a day and time of their choosing." 
What have you personally gained through your experience with Care Links, what have you enjoyed the most?
"A few years before starting with Care Links, I lost both my mother and mother-in-law. As older adults, there were many times when they needed rides to doctor appointments but no services were available in their towns. Knowing that I am helping other people with similar needs in my own community is very rewarding. I don't know about the other drivers but I found myself volunteering to drive the same people whenever possible so I could get to know them better. The seniors I met were very grateful for my help and they soon became friends." 
How do you make the most out of your experience with the seniors you come in contact with?
"I'm not sure exactly how this evolved but I guess it was mostly because my "senior" (I am matched to) bonded and became good friends. As a result, I have become her regular driver weekly on Monday and Wednesday afternoons. We have become close and I enjoy her company very much." 
What advice would you give to someone interested in volunteering with the Care Links program?
"I would highly recommend volunteering with Care Links. If you are not interested in driving, you can participate many other ways. Maybe helping with Respite assistance, a friendly visit, shopping and errands, or light housekeeping as more to your liking. We will all one day be in the same position as many of these seniors and we can only hope that Care Links and their volunteers are there for us when we need it."