Care Links, a program of CAPTAIN Community Human Services, is proud to be celebrating our 25th year of service to seniors in Southern Saratoga County! At Care Links, we strive to make it possible for seniors in the community to live active lives in their own homes by connecting seniors with dedicated volunteers who provide services such as transportation, friendly visits, shopping and errands, and more.
Ronald Day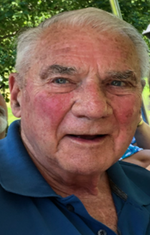 We've been incredibly lucky to have Ronald Day as one of our wonderful volunteers. Care Links Volunteer Ronald is 87 years young, married to Ann for 63 years with 8 children, 17 grandchildren and 6 great grandchildren. He is retired from General Electric and has been active with St. Edward the Confessor Church for the last 40 years. Ron is a volunteer at Albany Medical Center (2 days a week), a Eucharistic Minister since 1995 and volunteers with Care Links as needed. He has a passion for classical music, collects records and piano sheet music, he plays the violin and some piano where he performs at area nursing homes and assisted living facilities.
We asked Ronald to share in his own words about his 10-year experience in making a difference in the lives of those he encounters through the Care Links program.
What made you decide to volunteer with Care Links?
"I happened to be there with everything that was needed; a reliable car, my health, free time and the support of my wife."
What have you personally gained through your experience with Care Links, what have you enjoyed the most?
"I meet new and interesting people from all walks of life."
How do you make the most out of your experience with the seniors you come in contact with?
"By being a good and sincere listener. I make them feel welcome in my car and hearing the stories they have - some good, some sad, some funny… all uplifting. With all of the activities I take part in, I have unique opportunities to make people aware of Care Links."
What advice would you give to someone interested in volunteering with the Care Links program?
"Always be open to opportunities to take people on."