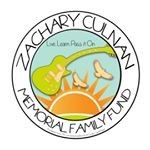 No youth should be priced out of participation in pursuits and passions that could have life-altering and lasting impacts on their future success.
The Zachary Culnan Memorial Family Fund - Activity Scholarship Fund was created with the purpose of providing a resource for low-income, disadvantaged and under-resourced youth who want to participate in a variety of different life-enhancing programs. Applicants who are pursuing participation in sports, activities, theater, music, art, STEM, or other hobbies are welcome to apply. The scholarship will provide financial support for the applicant to be able to take part in the opportunity of their choice.
Learn more about the scholarship here.